InsideRadio Broker Scorecard: Richard A. Foreman Associates Has Radio's Biggest Deal Of 2021, So Far.
9/17/2021
The following excerpt was provided by InsideRadio. Read the full article here.
The broadcast deal market has been sluggish and challenging in 2021. Not counting Gray Television's big consolidation deals, the first half of 2021 registered a total deal volume of $139.2 million. That's less than the average monthly deal volume in any of the years between 2011 and 2019. These market conditions have made the assistance of broadcast brokers more important than ever, Kagan says in a rundown of broadcast broker activities for first half 2021.
More than half of first half 2021 volume ($70.8 million) came from just 12 deals ranging from $2.5 million to $18.1 million. Nine of the 12 deals were conducted with the assistance of broadcast brokers.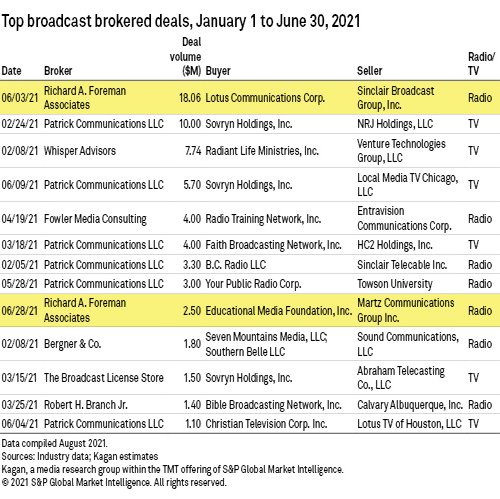 The largest radio deal of the first half of 2021 was brokered by Richard A. Foreman Associates. On June 3, Sinclair Broadcast Group announced the sale of its three stations in Seattle – "News Radio" KOMO - AM & FM (1000, 97.7), hot AC "Star 101.5" KPLZ and "Talk Radio 570" KVI – to Lotus Communications for $18 million in cash and other consideration. The deal marked the TV giant's radio exit.
Foreman also brokered the $2.5 million sale of two FM stations in upstate New York, targeting the city of Montreal, Canada from Martz Communications Group to Educational Media Foundation. The border-crossing deal includes CHR "94.7 Hits" WYUL Chateaugay, NY and "Wild Country 96.5" WVNV Malone.