January 21, 2010
Dick Foreman joins Pilatus Pilots
Relief Caravan to Haiti ferrying doctors and medical supplies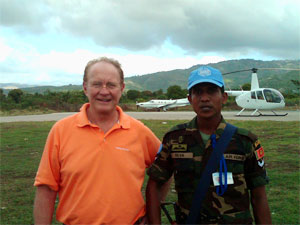 Veteran station broker Dick Foreman's friends have been wondering where the hell former ABC Radio programming honcho has been for the last week. Turns out Foreman, a licensed pilot who owns his own Pilatus prop jet, has been in Haiti, shuttling badly needed medical equipment and supplies into the devastated island nation.
Good Guy Foreman who sits on its Executive Committee, has helped raise millions for the Broadcasters Foundation of America and is known admiringly by his fellow directors as the national charity's "Grey Eminence."
"We also Call him the 'Chief Pilot' of our 'Air Wing'" said Foundation Director BILL O'SHAUGHNESSY. "Foreman is a great humanitarian and one of the really good guys of our broadcasting tribe." The station broker previously gave $50K through the Broadcasters Foundation to assist Bayou broadcasters in the wake of Hurricane Katrina.